December 14, 2010.
Games Of The Year Promo, Santa's Party Pack, Prize Draws And Other Promotions This Christmas Season From Party Casino.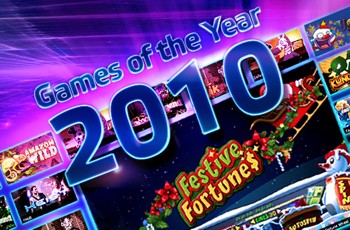 Games of the Year Promotion
16th - 22nd December.
Festive Fortune$ is the latest blockbuster game to hit Party Online Casino. Party Casino is celebrating the New Year with all the fantastic slots and jackpot slots that the casino has brought players over the last 12 months.
So here's the opportunity for online players to enjoy 2010's Games of the Year - with a special money-back guarantee. Enjoy playing video slots and jackpot slots in the Party's Games of the Year collection, and the casino will credit back 10% of any losses that you might incur up to a maximum of $300 and $500 for VIP losses.
Your Games of the Year cashback is valid across all the amazing online slots and jackpot slots that were launched this year. Why not start with Festive Fortune $, PartyCasino's new Christmas slot bonanza? You win free spins and multipliers thanks to an extra 6th reel - a little stocking filler from Santa!
Whichever Games of the Year you enjoy, you can receive up to $300 cashback. And if you're a VIP player, you can look forward to not only up to $500 cashback on any losses, but up to $250 on your winnings as well, e.g. receive $50 for every $500 won, up to $250! Opt-in from 16th December to participate in the promotion and protect your money.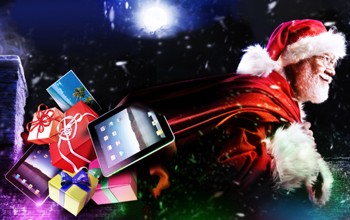 Santa's Party Pack Promo - Prizes whether you've been good or bad!
1st - 14th December
Santa is making an early appearance. He's spreading Christmas cheer, handing out killer Christmas presents to non-VIP and Palladium VIP players at Party Casino. From 1st to 14th December, players can celebrate Christmas in style with a double whammy of festive winning opportunities. There's a prize giveaway where you can scoop up to 6 prizes, and a massive cash prize draw!

Winning a share of Santa's Party Pack is simple, and you don't even have to sit on Santa's knee! Simply opt-in between the 1st-14th December and collect points by playing your favourite slots and jackpot slots. The more you play, the more prizes you'll unwrap.

Prize Giveaway
If you're not a VIP yet, check out the Christmas List below, Santa could bring you up to 5 fantastic prizes worth $1,000: various cash bonuses, casino points, and 5,000x iPad 32GB WiFi. The iPad 32GB WiFi has a cash alternative of $600, this will automatically be credited to the player's account.

Palladium VIP players can check out the Christmas list below. Santa could bring you up to 6 prizes worth $10,000: 2,000x $75 cash bonuses, 3,000x 1500 points, 5,000x $150 cash bonuses, 7,500x $250 free cash, 15,000x iPad 64GB WiFi*, 50,000x Luxury Caribbean Holiday** (worth $8,500)! *The iPad 64GB WiFi has a cash alternative of $1,000, **The Luxury Caribbean Holiday has a cash alternative of $5,000 these will automatically be credited to your account. Please see T&C's for details of how to receive the non monetary alternative.

Santa's Big Prize Draws
What a cracker! But wait... there's an extra present under the tree - Santa's Big Prize Draw. By taking part in Santa's Party Pack, you will be eligible for the draw. The more points you earn the more entries you will receive. You can win in 2 draws:

Non-VIP Big Prize Draw - Every time you earn 20 points during the promotion, you'll get one entry to the Big Prize Draw. $10,000 will be shared equally between 10 lucky players.

VIP Big Prize Draw - Every time you earn 500 points during the promotion, you'll get one entry to the Big Prize Draw. $20,000 will be shared between 3 lucky players in the following amounts: 1st - $10,000, 2nd - $6,000 and 3rd - $4,000.

You can collect points on any of Party Casino's slots and jackpot slots. To join the festivities you need to Opt-In from the 1st-14th December. Win some exceptional presents this Christmas with Santa's Party Pack promotions at Party Casino.

Good luck and Merry Christmas!


Related Slots Articles:
1. $201,000 The Countdown To 2010 Promotion At Slots Galore Casino

(21/12/2009)


2. £3232 Scrooge Slot Leaderboard And Get Loaded Slots..

(20/12/2009)


3. Christmas Giveaway And Bonuses At Cocoa Online Casino

(15/12/2009)


4. Christmas Marathon Promotion - Bouncing Bonuses At Slotland..

(23/12/2008)


5. Spiderman II Revelations And Dragon Sword Brand New Slots Have..

(16/12/2008)



Back to December 2010 Casino Slots News