Slots News: Deck the Halls, My Slot, Reel Baron, Christmas
Cristmas Theme Deck The Halls, Customizable My Slot And Reel Baron - New Slot Machine Games At Microgaming Casinos This Month.

Three new video slot games were released by Microgaming and offered at online casinos from the beginning of December. They are: Christmas theme video slot Deck the Halls, My Slot customizable slot and Reel Baron. You can play the games at Spin online casino or other Microgaming casinos. Intertops Casino is giving away $12,000 every weekend throughout December - it's a great place to try the new releases.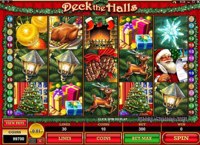 Deck The Halls
In keeping with the generous spirit of the festive season this month, Intertops Casino's latest video slot release Deck the Halls offers a sleigh-load of winning opportunities through Wilds, Stacked Wilds (in Free Spins round), Scatters, Multipliers, and Free Spins in a truly entertaining 5 reel, 30 pay-line fave of a rave for the holidays.
The player is left in no doubt on the theme here as a feast of Christmas icons unfolds on the screen in a burst of color, sound and brilliantly presented graphics, capturing the essence of Happy Holidays with Christmas trees, reindeers, bells, roast turkey and blazing log fires and gift stockings on the mantelpiece.
But watch out especially for Santa Claus and the boughs of ivy in Deck the Halls, because these are symbols of success that open a sackful of chances to win.
The Deck the Halls logo is the Wild here, substituting for most symbols to build cash generating combinations in which wins are doubled up to staggering 2.4 million coins. And Santa delivers the popular stacking feature in both the base game and in the Free Spins.
Those double-your-wins Free Spins appear when 3, 4 or 5 Christmas bells spin up, generating 10 free spins in which more spins can be re-triggered and further stacking feature within the game can be activated. It's a thoroughly entertaining package full of integrated but diverse gaming features.
With a betting range as low as 0.01 and up to 0.05 credits, a maximum bet of $/€/£15.00 can bring rewards of 15,000.00 credits in the base game and a festive bonanza of 120,000.00 credits from the Free Spins - surely enough to ensure a jolly Yuletide for all involved. Invest a little time this festive season trying out Deck the Halls - its going to be a major Christmas hit!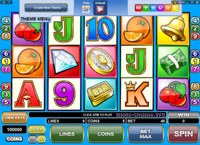 My Slot
If online avatars and poker tables can be customised to a player's individual taste, then the same should apply to slot machine games, and this week Belle Rock casinos are among the first to offer this unique facility in its latest 5 reel, 9 payline slot called 'MY SLOT'.
This game provides the option of selecting personal choices in photos, graphics and even sound effects or music from an individual computer hard drive and importing these into the game software through an easy to use tab interface, bringing to life a truly bespoke game uniquely and exclusively suited to the creator.
No special skills are necessary to use this revolutionary new feature, giving the player the power to customize their symbols, background colour and even sound of the game.
The customised theme then becomes part of an action-packed video slot that offers Wild, Scatter and Free Spin features with 3x multipliers and the capability to generate free spins within the spins to create more winning opportunities.
For those slot players who do not wish to use the customising function, a default version of the game can be selected that will display the game to Microgaming's usual quality standards with a conventional slot theme and the same exciting winning opportunities.
"A customizable slot is something that players have repeatedly requested, and we're pleased to be among the first online casinos to roll out this new, easy-to-use player facility," casino operator representative said. "It really is a fun new capability that we're sure will put an extra edge of enjoyment on the game, and we urge players to visit us, download the game and try their hands as theme designers!"
I have already tried the My Slot game and believe me: It's easy... but most importantly it's loads of fun if you do it right! Just upload your own pics on the reels!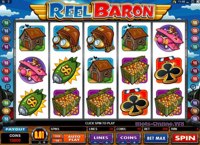 Reel Baron
Enter a bygone age of flimsy biplanes, begoggled brave aviators but modern day rewards at Intertops Casino this month as they launch its latest high-flying, 5 reel, 20 pay-line video slot Reel Baron.

There's more action here than you could find in an aerial dogfight over the trenches as the player uses Wilds, Scatters, Multipliers and Free Spins to come out ahead. That can mean achievable wins as high as 10,000.00 credits in the base game and up to a bank-boosting 100,000.00 credits ($/€/£) on Free Spins.

The bright graphics depict a medley of ancient fighter planes (don't miss the bright pink model and its charming aviatrix!) together with its own four leaf Iron Clover medals, bombs, Zeppelins, flying helmets and compasses.


Related Slots Articles:
1. Lucky News Network And Star Appeal Microgaming Video Slots At..

(25/11/2008)


2. King Kong, Casinomeister, Picnic Panic And More Cryptologic..

(20/11/2008)


3. Six New Slot Machine Games And Biggest $100,000 Halloween..

(24/10/2008)


4. Jonny Specter, Spike's Nite Out And Bob's Bowling Bonanza New..

(17/10/2008)