Slots News: Online Bingo, Bingo Day, Titan Bingo, Promotions
Online Bingo Promotions And Guaranteed Tournamants At Bingo Day And New Titan Bingo Halls.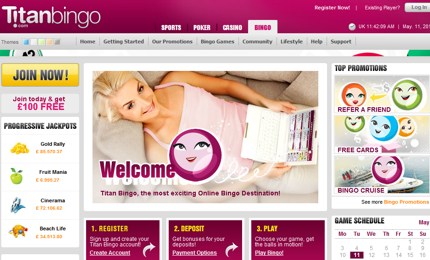 Two bingo halls - Bingo Day and Titan Bingo - have another action-packed month of amazing promos with an extended programme of guaranteed games to keep online players coming back for more. The entire list of promotions for all the month of May includes both Bingo Day and Titan Bingo which add up to over £100,000. An additional amount has been added to a particularly popular promotion known as Money Mountain.
Main highlights this month are:
Over £100,000 in guaranteed prizes and jackpots must be won in May!
New Cash Splash games - high prize games at the top of every hour from Noon to Midnight with £2,200 guaranteed daily.
2 Money Mountain weekend promotions - £14,000 in prizes and jackpots.
Bingo's Got Talent promotion - month long contest with prize draw and chat tournament elements.
Bingo Cruise Contest - the final push of the promotion and last chance for players to qualify before the final in June.
Cash Splash Games
Popular bingo halls are splashing the cash with month with a brand new line-up of guaranteed games with £2,200 given away daily! Play at Noon, 1PM, 2PM, 3PM, 4PM, 5PM & 6PM in £100 Games, at 7PM, 8PM, 10PM, 11PM & Midnight in £200 Games and at 9PM in the £500 Game.

The new Cash Splash games will replace all the existing regular guaranteed games including the Noon Showdown, £200 Guaranteed games, the Big One and the Crown Jewel. Total prize pool is £68,200!

Money Mountain Promotion
This new bi-monthly promotion will take place on 4 Day Bank Holiday Weekend 30th April - 3rd May and 7th - 9th May and offer £7,000 in prizes plus £7,000 total in jackpots. Ten linked games of £100 guaranteed from 9PM - 10PM each day with an increasing jackpot getting easier to win each game. Up to £8000 is given away this Bank Holiday weekend! That's £4000 in prize money that must be won PLUS another £4000 in jackpots! Plus £2000 each day, with one hour of cracking guaranteed £100 prize games! And it gets better! The juicy jackpot starts at £100, growing by £100 each game AND it's going to get easier to win! Starting at 42 balls to jackpot, bingo sites will be adding 2 balls every game until it's won! Then it resets and the race starts all over again.

Bingo's Got Talent! 1st - 31st May
Could you be the next Susan Boyle? Do you have the dance moves of Diversity or the comedy genius of Stavros Flatley? Well if you think you've got bingo talent, then there is the perfect contest for you - with BingoDay's new Bingo's Got Talent promo! Reveal your star quality in chat and you could win a fantastic flat screen TV and tickets to the Britain's Got Talent Live Tour!

Join the contest every day at 2.30PM, 7.30PM & 10.30PM for your chance to shine as a true star and play BingoDay's Bingo's Got Talent linked games! The daily game winners will be entered into the prize draw to win an amazing Sony Bravia 40" Flatscreen TV! This special BGT game has a £25 prize fund and a Buy 2 get 1 Free offer! Buy as many tickets as you can to be in with a chance of being crowned our Bingo's Got Talent winner! Plus as an extra special part of the prize, the winner will have the chance to have their picture on their own banner showing in the Barmy Club for a whole month! You'll be the envy of all your friends with a wonderful illustration up in lights and a new found celebrity status!

BGT Chat Tourney
For your chance at scooping the much sought after Britain's Got Talent Live Tour tickets, join BingoDay or TitanBingo in chat in any of their bingo rooms and for every chat game you win, you'll earn one Star Point! Show your true talents in chat as "Talent Spotters" are ready to hand out extra Star Points for your acivity in chat!

The player with the most Star Points at the end of the month will win 4 tickets to see Britain's Got Talent Live Tour at the LG Arena in Birmingham on Saturday 26th June - brilliant family entertainment! There will also be 2 more pairs of tickets up for grabs for second and third place. Don't sit out in the cold in the lobby, jump into chat and collect those stars! Good luck to all!

Bingo Cruise Contest
Last chance for players to earn a place in the grand final - May qualifiers will be determined by the most tickets bought in the daily Cash Splash games (Noon to Midnight) during the month for the final month before the grand final in June.

Magnificent May Tourney
Monthly contest on 1st - 31st May based on most games played. May's contest will be decided on most games played during the entire month. Remember, games played in all bingo rooms count towards your monthly total. If you are in the top 10 players you could win: 1st place £75BBs, 2nd place £50BBs, 3rd Place £25BBs, 4th - 10th Place £10BBs. Set those pre-buys and good luck to all!

Plus £200 Eurovision Song Contest weekly special in the Velvet Lounge. 2 hour chat game special based around wins and points with session winner receiving voucher for a beauty treatment worth up to £50.

£100 Welcome Bonus at Titan Bingo
Spend £20 and get £100 free in cash. Titan Bingo is offering a 500% first deposit bonus: deposit and spend £20 and you'll get 500% match up to £100 bonus. Plus additional £100 if you spend your deposit within 48 hours of signing up!


Related Slots Articles:
1. Bingo Day Online Bingo Hall Promotions, Giveaways And Contests

(11/12/2009)


2. Two Players Win Online Progressive Jackpots Within 48 Hours At..

(30/11/2009)


3. Giggle Bingo Is The New Online Bingo Brand By Fortune Lounge..

(05/10/2009)


4. Win A 2,500 UK Pounds Shopping Spree With Jackpot City Online..

(28/11/2008)


5. Bingo News: All Bingo Club Is Going Green And Gives Aways..

(27/09/2008)




Slots Reviews | | Bonuses