Slots News: Circus Slot, Party Casino, Circus, Promotion
Cash In Your Spins At PartyCasino - Race To The Top Of The Circus For Your Share Of $150,000.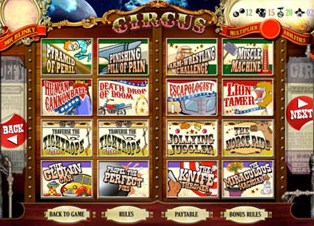 Party Casino has launched new Circus Slots which we believe are the most entertaining slot games they've developed to date. You've never played anything like The Circus slot machine with 16 exciting bonus games.

Roll up, roll up! Welcome to the Circus, the spectacular slot game. Combining the best elements of slots and games, Circus is the world's first role-playing slot title. Choose from 4 memorable characters with varying abilities and unique storylines to take you through your cash-grabbing circus adventure.

Every feature in Circus has been made bigger, better and more exciting than other online slots, especially with the inclusion of 16 dazzling bonus games. Step into the shoes of the lion tamer, acrobat, magician and many other classic circus roles as you try to win all the big money up for grabs.

The more you play Circus, the more you'll unlock. You will discover thrilling plot developments, enjoy more rewarding bonus round games and increase your abilities to raise your win multiplier for awesome cash prizes.

Circus slot saves your game progress as you go, meaning you can return any time and continue where you left off. You can even start a second, third or fourth adventure with a different character for even more fun and rewards.

This revolutionary new game concept takes slots to a whole new level. Make a deposit and play now for an experience you'll keep coming back to again and again. You can play it in PartyCasino - download software, or play instantly in your browser. Note: New players are offered huge 100% welcome bonus up to $500 free on the first deposit - use bonus code CIRCUS50REV

Race to the Top of the Circus for your share of $150,000
This promotion runs from 6th April till 20th April, 2010.
To celebrate its triumphant arrival Party Casino inviting you to Race to the Top, where you play for a share of $150,000 across 2 leader boards. Palladium VIPs will compete for more than $95,000 on their leader board, while regular players will have a shot at more than $60,000.

To get yourself on board, simply collect PartyPoints by playing on Circus or any of the fabulous big-money slots and jackpot slots from 6th to 20th April. The higher you climb up a leader board, the bigger your reward.

Earn double points when you play on Circus!
To make sure your Circus career starts in style Party Casino will give you double points when you play the brand-new slot game. Please note that these extra points awarded will not count towards the Race to the Top leader boards.

Here's what Party's regular players can win on the leader board:
1st place $5,000
2nd place $4,000
3rd place $3,000
4th place $2,500
5th place $2,000
6th place $1,500
7th place $1,250
8th place $1,000
9th place $750
10th place $600
11th to 15th place $500
16th to 25th place $400
26th to 35th place $300 cash bonus
36th to 50th place $250 cash bonus
51st to 75th place $200 cash bonus
76th to 100th place $150 cash bonus
101st to 200th place $100 to $75 cash bonuses
201st to 500th place $50 to $10 cash bonuses
If you're one of Party Casino's VIPs, take a look at the table below to see how much you could win on the leader board:
1st place $15,000
2nd place $10,000
3rd place $7,000
4th place $5,000
5th place $4,000
6th place $3,000
7th place $2,500
8th place $2,000
9th place $1,750
10th place $1,400
11th to 150th place $1,100 to $100 cash bonuses.
As the world's first role-playing slot, Circus is packed full of features that will amaze all the players. Choose one of four unique characters, play 16 bonus games for big-money multipliers and unlock an adventure that will keep you coming back for more and more. You'll be amazed at the Circus. Try the greatest spectacular on earth, visit Party Casino (blacklisted).


Related Slots Articles:
1. $4.2 Million Gold Mega Jackpot, Slot-Tastic Sundays And The..

(16/10/2009)


2. The Treasure Hunt, Sinatra Giveaway, Increased Rewards And..

(17/07/2009)


3. The Terminator Is A New Movie Themed Slot Machine At Party..

(11/11/2008)


4. Action Packed Party Casino Captures The Terminator And Rambo..

(04/08/2008)


5. New Mission: Impossible And Saturday Night Fever Slot Machine..

(03/06/2008)